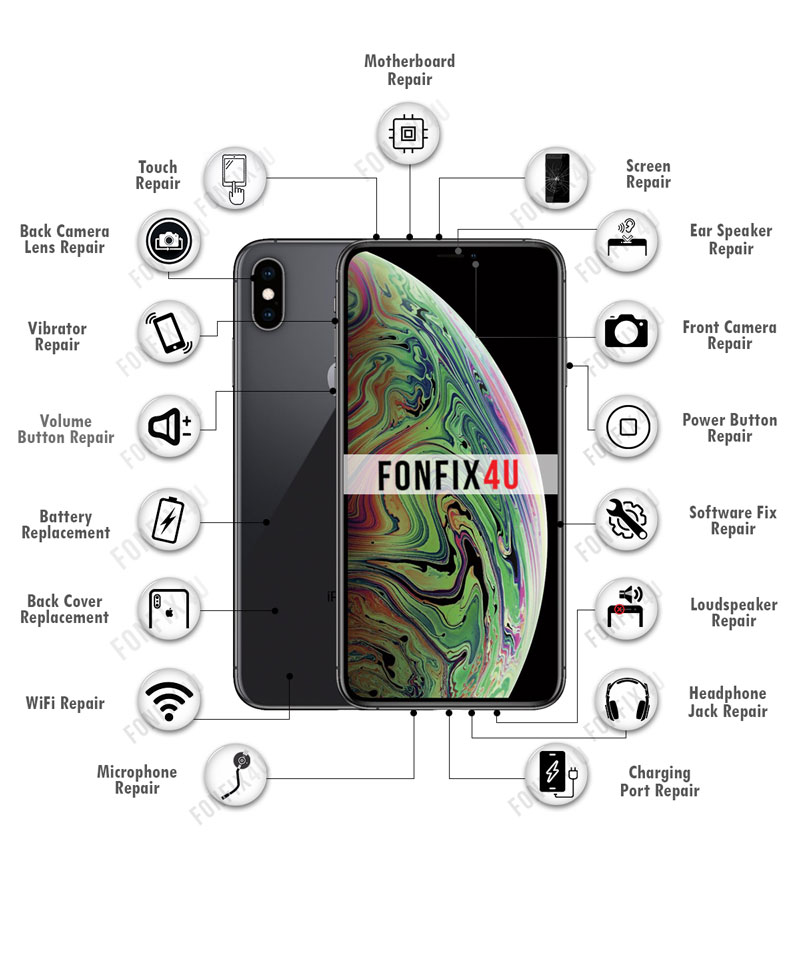 Apple iPhone XS Max
| | | |
| --- | --- | --- |
| Front Screen Repair | Charging Port Repair | Loudspeaker Repair |
| Battery Replacement | Front Camera Repair | Back Camera Repair |
| Factory Unlock Service | WIFI Repair | Software Repair |
| Microphone Repair | Power Button Repair | |
iPhone XS Max Repairs in Oxford
Call for Inquiries: 01865 236 925
iPhone Xs Max Cheap Repair in Apple History:
iPhone XS Max comes with iOS 12 upgradable to iOS 13.4, and its release date is September 2018. The Apple iPhone XS Max has a glass front, glass back which is scratch resistant (Gorilla Glass) and stainless steel frame. It is dust and water-resistant with IP68. It has a 6.5 inches display with super retina OLED capacitive touch screen, 16M colours. The mobile phone is available in 64GB 4GB RAM, 256GB 4GB RAM, 512GB 4GB RAM memory. iPhone XS Max has a main camera with 12MP and selfie camera with 7MP. It carries non-removable Li-Ion 3174 mAh battery (12.08 Wh). It is available in Space Gray, Silver, Gold colours. iPhone XS Max is an innovative smartphone with next-generation technologies.
iPhone XS Max Repair at Fon Fix 4 U, Oxford
If you are looking for your iPhone XS Max repair services in Oxford, there is no better option than Fon FIX 4 U.No matter you are having any problem with your devices' hardware or software, the solution lies with Fon Fix 4 U. Our repair services are affordable and the quality is best.
We face different problems with our mobile phones every day. Sometimes we drop our phone from a height, it is exposed to liquid, or strike a hard surface. At times, we experience issues with mobile phones software. The mobile phone is a machine and can stop functioning at some point in life. The important thing is finding the right place for cellphone repair. You can avail the mobile phone repair services at Fon Fix 4 U if you are in Oxford. Fon Fix 4 U is a leading mobile phone repair company in Oxford providing you with repair services for all smartphone brands and models.
iPhone XS Max Screen Repair in Oxford
Do you have an iPhone XS Max with a broken or cracked screen? Is your iPhone XS Max screen not responding to touch? Are you facing any issue with iPhone screen after an iOS update? No matter what glitch your iPhone XS Max screen has, Fon Fix 4 U provides you with the best possible solution. Our expert technicians carry out iPhone screen repair and screen replacement on the same day. The price for screen replacement is reasonable, but it may vary depending upon the replacement screen quality you may choose.
iPhone XS Max Battery Replacement in Oxford
We are addicted to mobile phones and use them 24/7. Checking our smartphones every next moment is a common habit. Using a mobile phone for hours leads to battery depletion. However, battery depletion sometimes becomes a permanent issue. Several factors result in battery drain, like battery age, overuse, exposure to liquid or some mobile apps. iPhone XS Max has 3174 mAh Li-ion battery that may last up to 10 hours. If your iPhone XS Max battery is draining fast, bring your device to Fon Fix 4 U for a quick replacement. Our expert technicians do iPhone XS Max battery replacement in minutes.
iPhone XS Max Water Damage Repair
Dropping a mobile phone in water is not a big deal, though finding a reliable iPhone repair store near you is a real concern. Fon Fix 4 U provides iPhone water damage repair services in Oxford at an affordable price. iPhone XS Max is water-resistant, but chances of damage are still there. If you drop
your iPhone in a pool, sink or toilet, instead of panicking bring it to our store. Don't inspect your smartphones by watching repair videos or else you may damage it.
Fon Fix 4 U offers you free of cost complete analysis of your cell phone. Our team of qualified and trained technicians and engineers are ready to help you out. We provide you with fast and affordable smartphone repair services in Oxford. At Fon Fix 4 U, you can also have iPhone XS Max charging port repair, ear speaker repair, headphone jack repair, power button repair, camera repair and volume button repair. Just name the glitch, and our technicians will fix it.