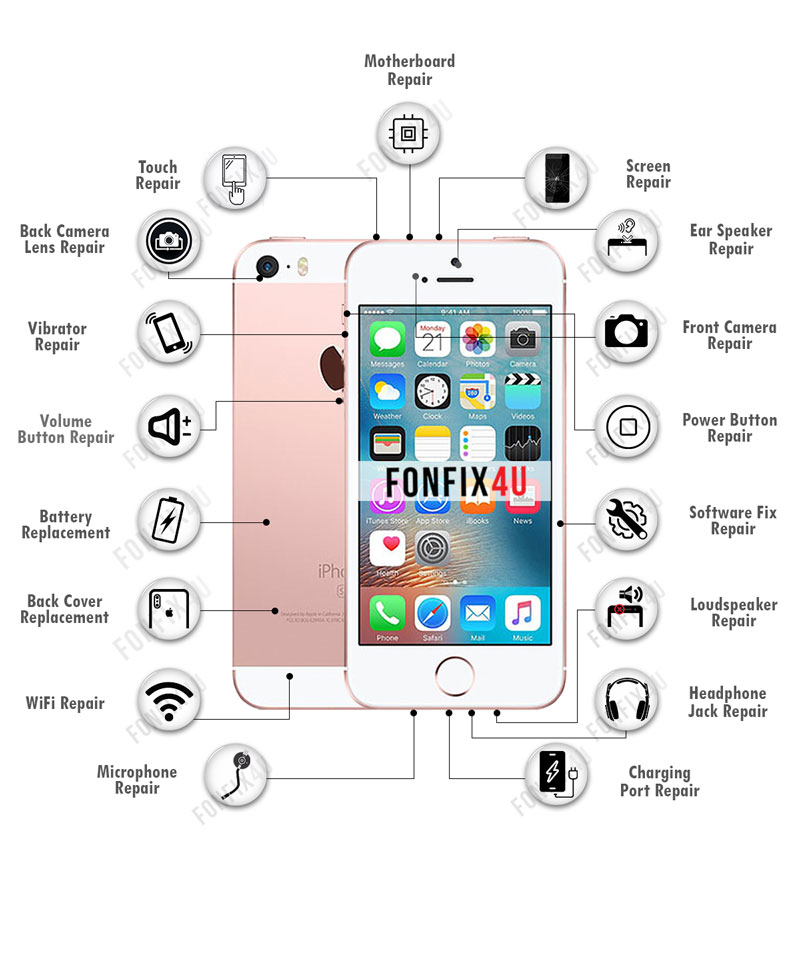 Apple iPhone SE | iPhone Repairs In Oxford
| | | |
| --- | --- | --- |
| Front Screen Repair | Charging Port Repair | Loudspeaker Repair |
| Battery Replacement | Front Camera Repair | Back Camera Repair |
| Factory Unlock Service | WIFI Repair | Software Repair |
| Microphone Repair | Power Button Repair | |
iPhone SE Repairs in Oxford
iPhone SE Repair at Fon Fix 4 U
Fon Fix 4 U is the most reliable Apple iPhone repair service provider in Oxford. We deal in all iPhone models from iPhone 4 to iPhone SE 2020. We offer same-day repair for some of the repair services like battery replacement and screen replacement. However, water damage repair and camera repair takes more time. We are committed to providing our customers with the quality iPhone repair services.
If you are looking for best mobile phone deals, Fon Fix 4 U is the right place for you. You can have cheap mobile phones, and cheap repair services at Fon Fix 4 U. We deal in iPhone hardware and iPhone software repairs.
iPhone SE Screen Replacement in Oxford
Fon Fix 4 U offers same-day iPhone SE screen replacement and iPhone SE screen repair services in Oxford. If you have iPhone SE with a broken or damaged screen, any problem with iPhone screen display, bring your phone to Fon Fix 4 U doctors. Apple iPhone repair cost is reasonable, and every replacement part comes under warranty. We use high- quality genuine parts for iPhone repairs.
iPhone SE Water Damage Repair in Oxford
We are so much into using cellphones that thought of detachment distress us. What if your cellphone fell in the water, faces a liquid spill, or stop working during photography in rain? Water exposure leads to your cell phone damage, but chances of repair are there. Fon Fix 4 U offers water damage repair services for Android and iPhone. If you need iPhone SE water damage repair services, contact Fon Fix 4 U. At our iPhone repair store, iPhone SE water damage repair service cost is economical and covers three-month warranty.
iPhone SE Battery Replacement in Oxford
If you are facing issues like battery drain, frequent charging, battery damage, or any other problem with iPhone battery. Bring your cellphone to our Apple iPhone repair store in Oxford for a complete diagnostic test. Our certified technicians and engineers examine the device thoroughly to identify the problem behind the battery drain. Fon Fix 4 U offers a cheap iPhone SE battery replacement service in Oxford.
You can have all your iPhone repairs and iPhone deals at Fon Fix 4 U. Our professional team members are available throughout the week.
Visit us today to avail our repair services at a fair price.