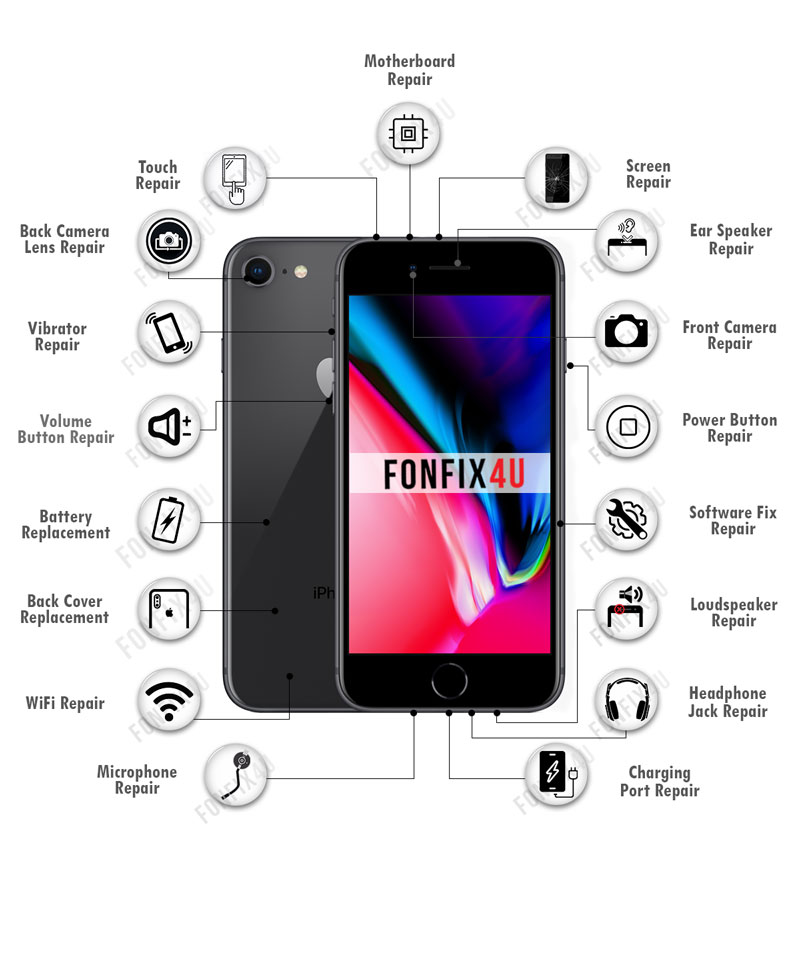 Apple iPhone 8
| | | |
| --- | --- | --- |
| Front Screen Repair | Charging Port Repair | Loudspeaker Repair |
| Battery Replacement | Front Camera Repair | Back Camera Repair |
| Factory Unlock Service | WIFI Repair | Software Repair |
| Microphone Repair | Power Button Repair | |
Defective iPhone 8 Repair in Oxford

Smartphone users are always looking for something attractive and durable at the same time. iPhone 8 andiPhone 8 Plus are a valuable addition in iPhone Family. Apple iPhone 8 and iPhone 8 Plus is launched, back in 2017. Mobile phones with front and back glass, the aluminum frame gives the phone a perfect finish. IP67 Dust and water-resistant with iOS 11. The only difference between the two phones lies in their sizes.
When you buy a new iPhone8, it brings excitement. However, there are a few concerns that arise in your mind. In case your iPhone stops working, you start thinking of an iPhone 8 repair store near me. You always look for the repair store and how much does it cost to fix a problem. iPhone 8 is a stylish device, but it can go through damage. When you have a problematic iPhone 8, want a warranty repair,Fon Fix 4 U is there to solve the problem.
Consult Fon Fix 4 U for Apple iPhone Repair:
Fon Fix 4 U is a name of quality and trust. We offer outstanding iPhone repair services at an affordable price. Whenever you are in search of cheap iPhone 8 repairs in Oxford, approach Fon Fix 4 U. We deal with all sorts of Apple iPhone repair. Tell us the problem, we will respond with the best possible repair solution. Its an iPhone 8 hardware repair or iPhone 8 software repair, we are ready to fix it. For the repair process either you can choose an online repair program, or bring your device to our store. Our repair prices are reasonable and suit every section of society. We offer discounts for students and public servants. Our team of dedicated staff members is always ready to serve you.
Avail our screen repair services in Oxford:
If you drop your iPhone out of excitement or by chance, no problem. Your mobile screen has a crack or breaks. Instead of losing nerves, search for iPhone 8 screen repair near me. You are fortunate enough if you are residing in Oxford to have Fon Fix 4 U near you. As soon as your mobile screen stops functioning , bring it to Fon Fix 4 U.You can avail our screen repair services in Oxford and across the globe. All we need is a perfect scratch-free screen. You can have iPhone 8 screen repair and replacement. We offer Apple iPhone 8 warranty repairs.
Cheap iPhone 8 waterdamage repair services in Oxford:
You invest a considerable amount of money in buying an iPhone 8. Still you cannot avert a situation like dropping your device in water. Exposing your device to liquid can result in its damage. There are chances of repair depending upon the duration in water. iPhone 8 with a rating of IP67 can undergo damage. Instead of wasting time in examining at home, bring it to Fon Fix 4 U for repair. We offer cheap iPhone 8 waterdamage repair services in Oxford.
iPhone 8 Battery Replacement
Your iPhone 8 battery is draining quickly? You need to charge your device over and over again? Look for the apps consuming more battery, restart the device. If all your efforts are unsuccessful. Don't waste more time, come to our repair store. We don't take much time in battery replacement. Just wait for a while, and your mobile phone is ready to use.
iPhone 8 Home Button Repair
In an Apple iPhone set, the home button is the most used button. Even if, iPhone 8 Home button is not responding, we fix it. We not only repair your device but give you free assistance for the future.
iPhone 8 Front Camera Repair
Our life without a working camera is indispensable. It gives colour to our cherished memories. We always need a camera to capture memorable moments. If your camera stop working, bring it to our Apple iPhonecamera repair store. Our certified technicians will give you a quick iPhone 8 front camera repair and iPhone 8 rear camera repair.
Cheap iPhone 8 Rear Camera Repair
Bring your iPhone 8 with a problematic rear camera at our repair store. We have a free diagnostic assistance test for your iPhone device. Our team of engineers and technicians handle your device with care. At Fon Fix 4 U, we offer you a cheap iPhone 8 rear camera repair.
Besides the above-mentioned repairs, we also provide you with repair services for the backlight. You can have iPhone 8 charging port repair,iPhone 8 headphone jack repair and iPhone 8 logic board repair at Fon Fix 4 U. Our aim is to provide you quality repair services in a short time. Visit today, for more details.