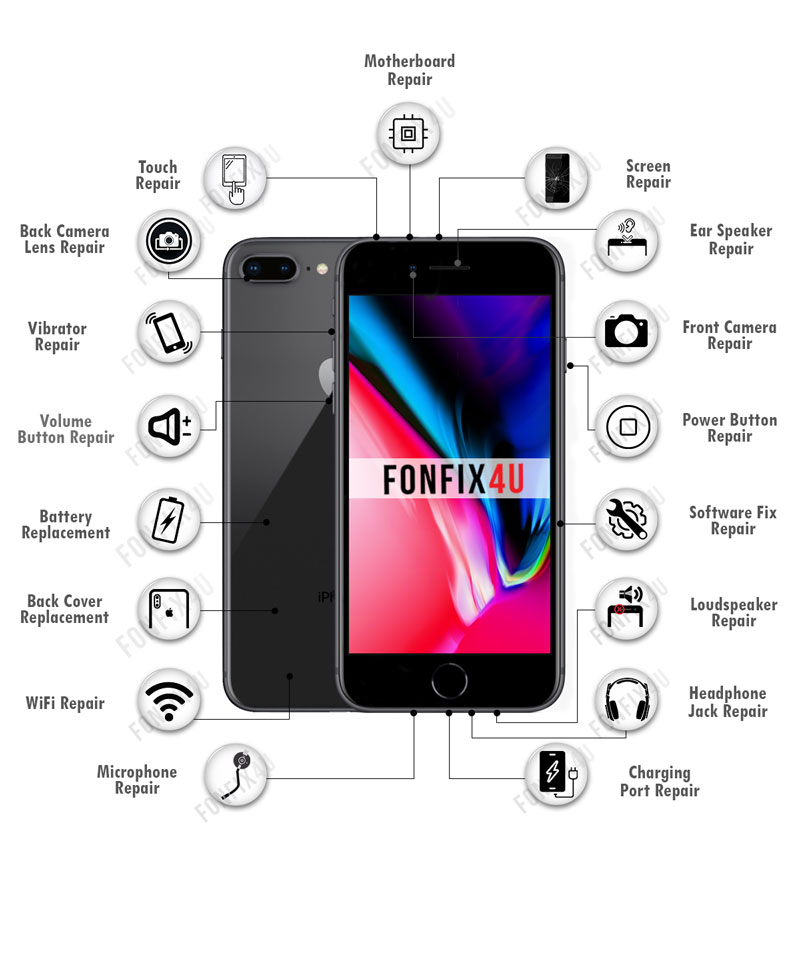 Apple iPhone 8 Plus
| | | |
| --- | --- | --- |
| Front Screen Repair | Charging Port Repair | Loudspeaker Repair |
| Battery Replacement | Front Camera Repair | Back Camera Repair |
| Factory Unlock Service | WIFI Repair | Software Repair |
| Microphone Repair | Power Button Repair | |
iPhone 8 Plus Repairs in Oxford at Fon Fix 4U
Call for Inquiries: 01865 236 925
Fon Fix 4 U offers iPhone repair services in Oxford at the most reasonable price. We offer iPhone deals for the new, and refurbished iPhones. At Fon Fix 4 U you can have repair services for iPhone hardware, and iPhone software, both. iPhone is an expensive device, and it needs extra care and expertise during a repair. Our certified technicians are trained and knowledgeable in their field and repair your device effortlessly. If you need repair services for any iPhone model, particularly iPhone 8 Plus, visit Fon Fix 4 U. We develop a bond of trust among our clients, by providing them with the quality repair services in Oxford. Our iPhone 8 Plus repair services are fast, affordable, and with warranty. We care for your device and data both. We repair your iPhone 8 Plus with broken glass screen, broken camera to iPhone battery replacement, and iPhone water damage repair. Just name the glitch your iPhone 8 Plus has, our skilful technicians will repair it in no time.
iPhone 8 Plus Screen Replacement in Oxford
A broken or cracked mobile phone screen brings torment and agony. If your iPhone drops from your hand by chance, the result can be heartbreaking. Its time to say goodbye to your mental stress caused by a mobile phone collision. If you own iPhone 8 Plus with a broken screen, worry not! Bring your device to Fon Fix 4 U experts for a flawless repair. Fon Fix 4 U offers same-day screen replacement and repair for iPhone 8 and iPhone 8 Plus. We use high-quality and genuine replacement parts and screens with a three-month warranty. Besides a broken screen, if you are facing any issue with your iPhone 8 Plus screen display, like black or a blank screen, flickering screen, dim display, or any other problem, choose Fon Fix 4 U repair services.
iPhone 8 Plus Battery Replacement in Oxford
A mobile phone without a good battery is of no use. iPhone brings good battery life to its users. At times your iPhone may lead to battery drain for no apparent reason. If your iPhone 8 Plus is having a battery drain issue, look for the problematic apps, and updates. Sometimes battery drain is temporary and fixable without visiting a repair store. However, the iPhone battery age, its use, and tear to the hardware may lead to permanent battery drain. If you are facing any issue with your iPhone 8 Plus battery or difficulty in charging, contact Fon Fix 4 U doctors. We offer a cheap iPhone 8 Plus battery replacement in Oxford. Our iPhone repair services are super fast and economical.
iPhone 8 Plus Water Damage Repair in Oxford
iPhone 8 Plus is water-resistant but not waterproof. Exposure to water for long can lead to iPhone damage. If you are in such a situation, instead of panicking take some measures before visiting a repair store. iPhone water damage repair is possible if the device is not left unattended in water for hours. If you drop your iPhone 8 Plus in a pool, on the beach, sink, toilet or any liquid, don't stress out! It is repairable. Fon Fix 4 U offers the cheap iPhone 8 Plus water damage repair services in Oxford. Our technicians and engineers are expert in repairing iPhone and all its glitches.
If you are having any problem with your iPhone 8 Plus hardware or iPhone 8 Plus software, visit Fon Fix 4 U for the best solutions.