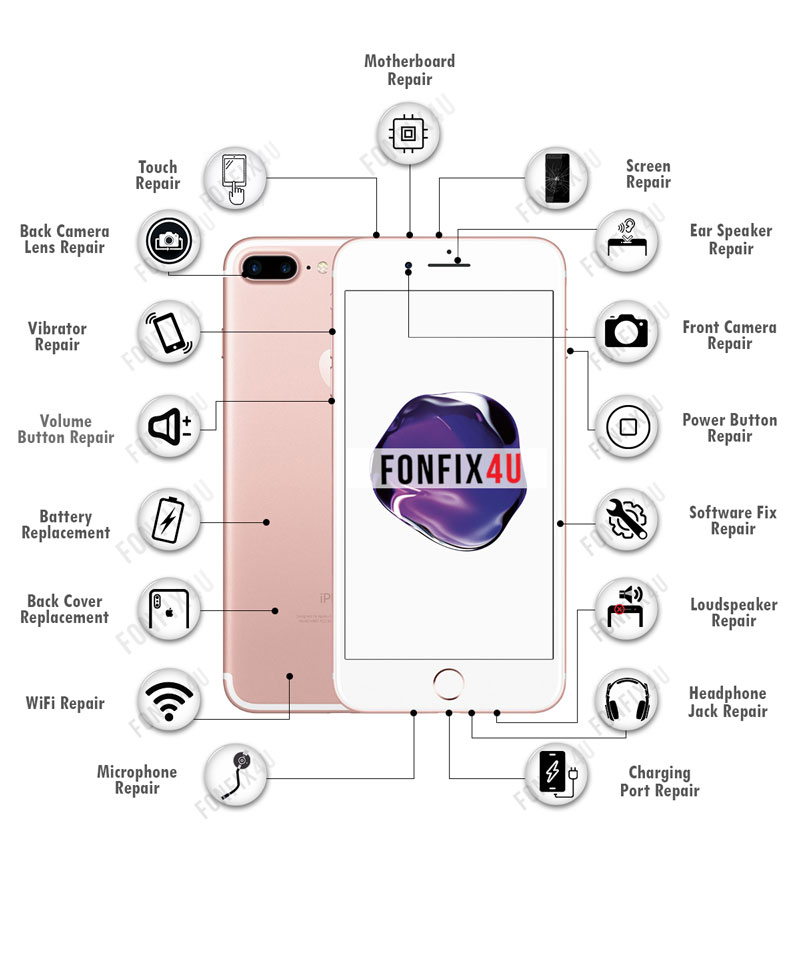 Apple iPhone 7 Plus
| | | |
| --- | --- | --- |
| Front Screen Repair | Charging Port Repair | Loudspeaker Repair |
| Battery Replacement | Front Camera Repair | Back Camera Repair |
| Factory Unlock Service | WIFI Repair | Software Repair |
| Microphone Repair | Power Button Repair | |
iPhone 7 Plus Repairs Oxford
Call for Inquiries: 01865 236 925
iPhone 7 Plus repair at Fon Fix 4 U
If you own a problematic iPhone 7 Plus, bring it to our iPhone repair store in Oxford. We at Fon Fix 4 U not only repair a malfunctioned device but guide about the future handling of the device too.Fon Fix 4 u offers iPhone repair services that suit every section of society. We repair iPhone and Android both, from the broken iPhone screen, and water damage to broken camera repair, and battery repair and replacement. Be it a problem with your iPhone hardware or iPhone software, our team of professionals are ready to fix it. Fon Fix 4 u provides a free diagnostic test for your iPhone 7 Plus and all other iPhone models.
iPhone 7 Plus Screen Replacement in Oxford
Do you own iPhone 7 Plus with a broken or cracked screen? Do you need iPhone repair services? Fon Fix 4 U put forward its repair services for iPhone 7 Plus and iPhone 7. Visit our iPhone repair store in Oxford to avail our quality services. We are the most reliable iPhone repair service provider in the town. We don't burden you with extra or hidden charges as we are fair in our dealings. We are confident to fix every issue your phone has, however, if we fail to fix the problem, we charge no fee.
iPhone 7 Plus screen repair and iPhone screen replacement costs are low among competitors market. At Fon Fix 4 U, our trained and highly skilled technicians repair iPhone screens in less than 30 minutes depending upon the availability of stock.
iPhone 7 Plus Battery Replacement in Oxford
Mobile phone battery life and battery condition matter a lot for your mobile phone's performance. You can either upgrade your cellphone or get a battery replacement to extend mobile phones life.
If you are low on budget, smartphone battery replacement is a good idea. Fon Fix 4 U offers iPhone 7 Plus battery replacement and iPhone battery repair in Oxford. If your mobile phone battery is not holding the charge for long, talk to the Fon Fix 4 U doctors for the best solution.
iPhone 7 Plus Water Damage Repair in Oxford
We at Fon Fix 4 U deal with every glitch your iPhone has. Being technology experts, we know the pain and strain you go through due to iPhone malfunctioning. iPhone water damage is what upsets people most. People question about water damage devices, is it repairable or not. Fon Fix 4 U expert team deal with water damage devices every day and repair it with perfection.
If you are one with such trouble, don't panic! You are not alone. Fon Fix 4 U is here to help you out with iPhone water damage. You can bring your iPhone 7 Plus to our iPhone repair store in Oxford for the repair.
Fon fix 4 U offers iPhone 7 Plus camera repair and camera replacement at a reasonable price. You can also have iPhone 7 plus charging port repair, power button repair, volume button repair, and home button repair at a fair price. Plan a visit today, for more details and repair services.