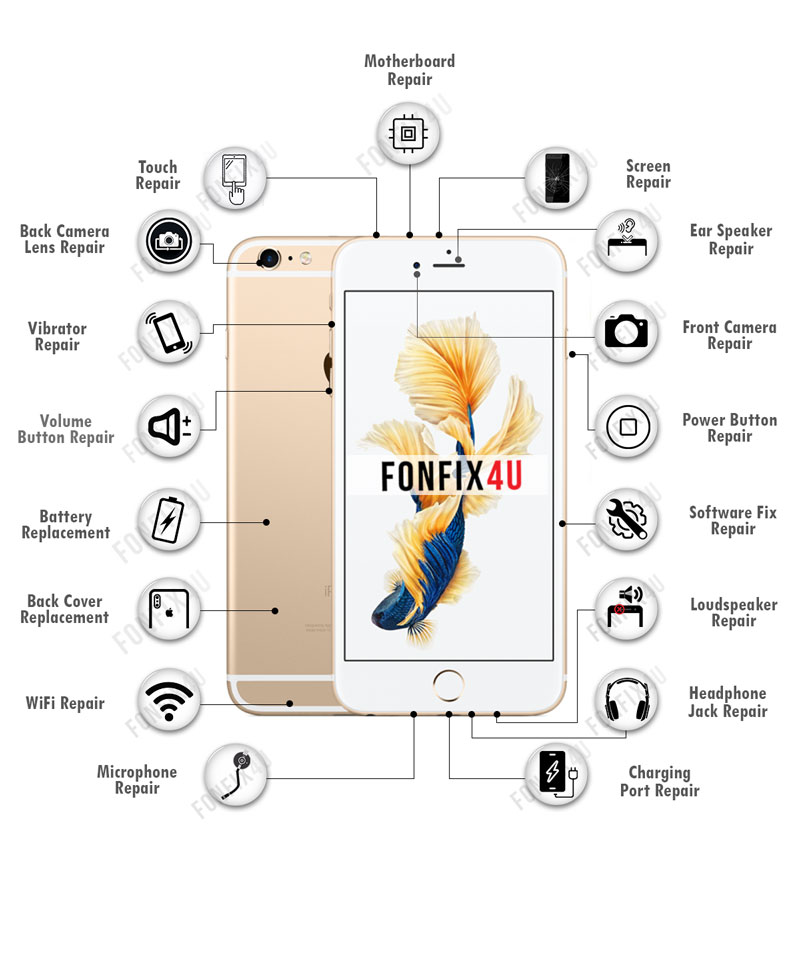 Apple iPhone 6S Plus
| | | |
| --- | --- | --- |
| Front Screen Repair | Charging Port Repair | Loudspeaker Repair |
| Battery Replacement | Front Camera Repair | Back Camera Repair |
| Factory Unlock Service | WIFI Repair | Software Repair |
| Microphone Repair | Power Button Repair | |
iPhone 6S Plus Repairs in Oxford
Apple released iPhone 6S Plus in September 2015 with innovative specs. It comes with a gorilla glass front, aluminium frame and aluminium back. It brings a good battery life, magnetic display, good sound quality, and excellent cameras. iPhone 6S Plus is economical but offers attractive features. iPhone 6S Plus is a durable phone with some exciting features of iPhone 8 and iPhone X.
Fon Fix 4 U offers iPhone 6 S Plus deals and iPhone repair services in Oxford. From iPhone broken screen to water damage repair, and battery replacement, our certified technicians can fix all the bugs your cellphone has. Fon Fix 4 U provides repair services for iPhone 6S Plus at a fair price. We aim to provide our customers with the best repair services in Oxford and across the globe. You can visit our repair store, courier your device for repair, or ask for a call out.
iPhone 6S Plus Screen Replacement in Oxford
Do you own iPhone 6S Plus with a broken or cracked screen? Do you need iPhone repair services in Oxford? If yes, then Fon Fix 4 U iPhone repair services are for you. Fon Fix 4 U offers same-day iPhone 6S Plus screen replacement and iPhone 6S Plus screen repair services in Oxford. If you have any issue with your iPhone display, let our expert iPhone technicians examine your device free of cost. To extend your iPhone life, we offer a free diagnostic test for all iPhone models. We repair, once our engineers and It experts identify the glitch. Our iPhone screen replacement cost is budget-friendly, but the quality is matchless.
iPhone 6S Plus Battery Replacement in Oxford
Fon Fix 4 U offers iPhone battery replacement in Oxford on the same day. If you are facing any issue with your iPhone 6S like battery drain, the mobile phone heats up, and battery not holding the charge for long. Bring your iPhone to Fon Fix 4 U doctors for a free diagnostic test to identify the problem. We repair iPhone batteries and do iPhone 6S Plus battery replacement within minutes. If you need cheap iPhone battery replacement in Oxford, visit Fon Fix 4 U. We use high-quality, and genuine batteries depending on our customers demand, and budget.
iPhone 6S Plus Water Damage Repair in Oxford
Water damage is a common issue that mobile phone users may experience someday. The water-resistant feature smartphones have, lessens the complication and damage it can have due to liquid. If your iPhone 6S Plus is water damaged, bring it to our iPhone repair store in Oxford for the quality repair services at a minimal price. Fon Fix 4 U is known for its outstanding repair services for iPhone and Android. No matter what problem your device has, professionals at Fon Fix 4 U offer you the best possible solution.
Our iPhone repair services cover every malfunction your smartphone has, from iPhone hardware to iPhone software. Visit Fon Fix 4 U today, and become a life long member of Fon Fix 4 U growing network.