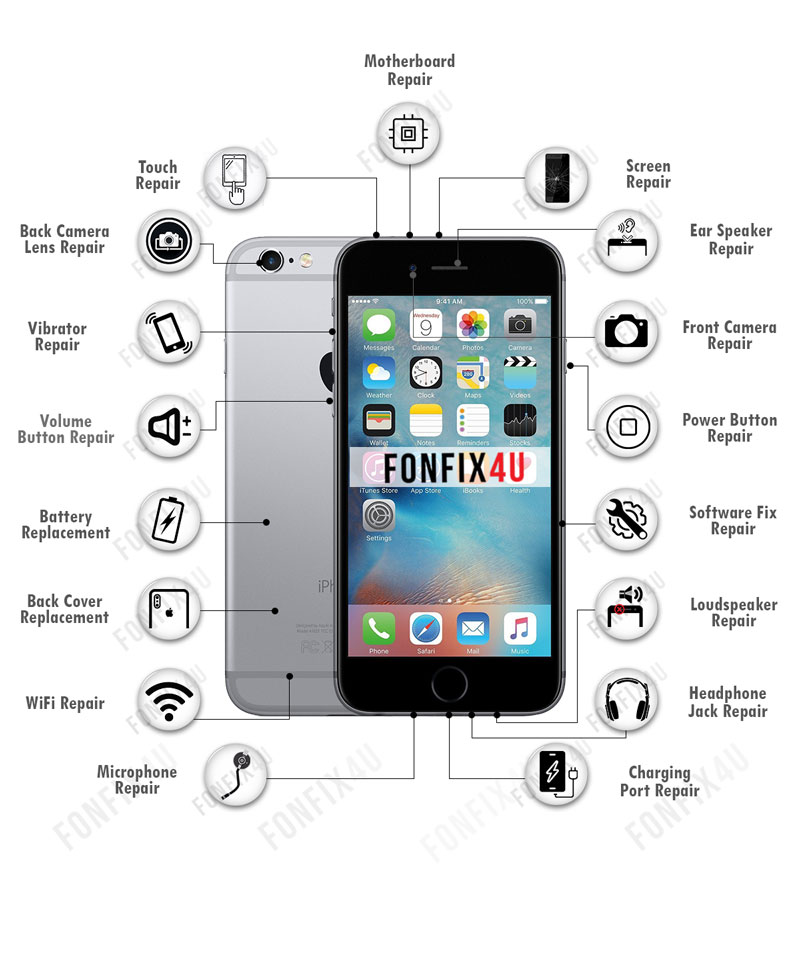 Apple iPhone 6
| | | |
| --- | --- | --- |
| Front Screen Repair | Charging Port Repair | Loudspeaker Repair |
| Battery Replacement | Front Camera Repair | Back Camera Repair |
| Factory Unlock Service | WIFI Repair | Software Repair |
| Microphone Repair | Power Button Repair | |
Get Best iPhone 6 Repairs Store in Oxford

iPhone 6 and iPhone 6 Plus, the eighth generation of the iPhone launched in 2014.iPhone6 has a larger 4.7 inches retina HD display, upgraded cameras, a fast processor, improved LTE, and Wi-Fi connectivity. iPhone 6 battery is non-removable Li-Po 1810 mAh. iPhone 6 battery life is better as compared to its predecessors. iPhone 6 has a glass front, aluminum rear, and aluminum frame. iPhone 6 come with iOS 8, upgradable to iOS 12.4. It is available in gold, silver, and space grey colors. iPhone 6 rear camera is 8MP while iPhone 6selfie camera is 1.2MP. iPhone 6 is the best mobile phone with its improved battery and outstanding design.
One cannot ignore the importance of a cellphone in everyday life. Whether it is an android or an iPhone, we need a mobile phone to execute our work. iPhone is becoming the first choice of the people due to its elegance and innovative features. Today, people prefer quality products. No matter how much a device costs, you look for quality service. Apple iPhone, being an expensive mobile phone, needs to be dealt with by professional technicians, in case of any damage, any fault. If you drop your iPhone 6 in water or on a hard surface, you search for a reliable iPhone 6 repair store near me. Do you want to know how much does iPhone 6 repair cost? You are fortunate enough if you are in Oxford, Fon Fix 4 U, awell-known Apple iPhone repair store is here to help you out.
iPhone 6 screen repair turns into Remarkable experience:
Is your iPhone 6screencracked? Is your iPhone 6 LCD not respond to the touch? Are you looking for iPhone 6 screen repair forcheap? If your reply is, Yes. Fon Fix 4 U iPhone repair services are for you. At Fon Fix 4 U, our certified technicians carry out iPhone 6 screenrepair on the same day. We are a quality iPhone repair service provider in Oxford, UK. Our iPhone 6 screen repair cost suits everyone's budget.
iphone 6 water damage repair costs low:
iPhone 6 water damage is a prevalent issue. We experience it at some point in our life. If you drop your iPhone in water, by chance. Instead of panicking, pick it up and wipe off the liquid gently. Bring your iPhone to Fon Fix 4 U and get it repaired in minutes. Our iPhone repair services are world-class. If you are looking for cheap iPhone water damage repair in Oxford, you are on the right platform.
Suffering short battery life? FF4U offers battery replacement in low price:
iPhone 6 comes with a non-removable battery. Trying to replace or repair the iPhone 6 battery at home is not the right choice. No matter you have iPhone 6 repair kit, replacing a battery without experience can damage your device. At Fon Fix 4 U, we use original replacement parts for your iPhone. Our iPhone 6 battery replacement service is incomparable.
iPhone 6 camera lens service, same day repair!
Technicians at Fon Fix 4 U remove and replace your iPhone 6 camera with care. We want your device to look as good as it was before the glitch. Whether you need iPhone 6 front camera repair or iPhone 6 back camera repair. Fon Fix 4 U is there to assist you.
Besides the above-mentioned services, we deal with every problem related to iPhone 6 hardwareandiPhone 6 software. If you are looking for iPhone 6 hardware repair or iPhone 6 software repair at a reasonable price, make Fon Fix 4 U, your first choice. We provide iPhone 6motherboard repair, iPhone 6 home button repair, iPhone 6 ear speaker repair, and iPhone 6 IC repair. We offer free of cost diagnostic test to identify the problem. Visit Fon Fix 4 U today, for a free analysis of your mobile phone or book a repair.