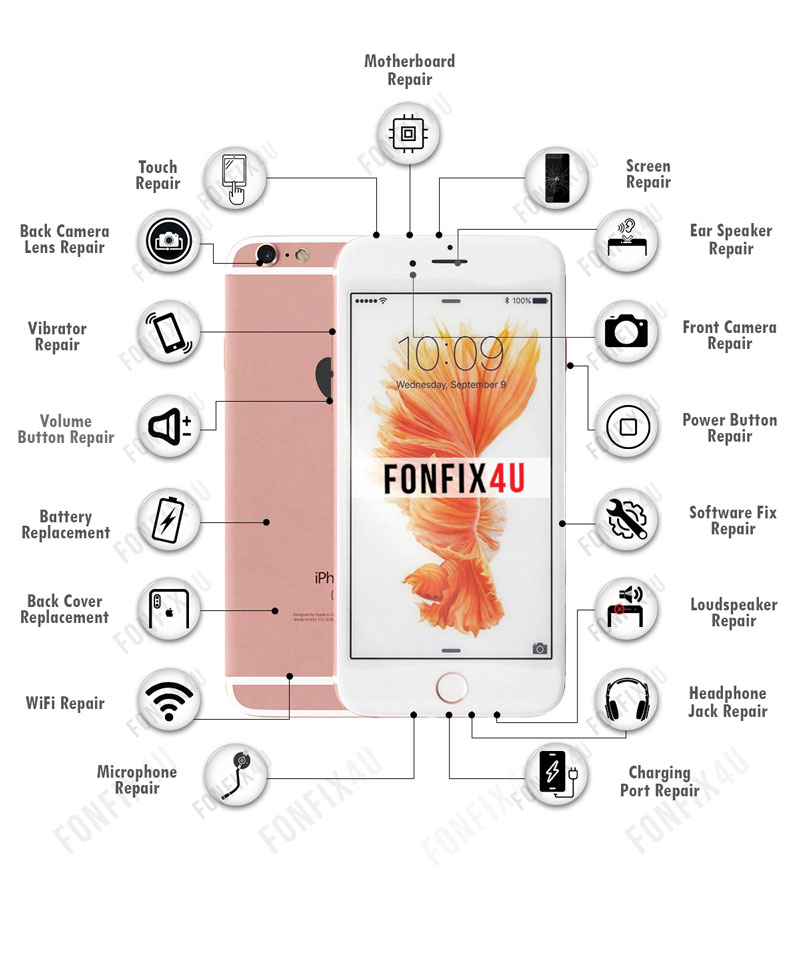 Apple iPhone 6 Plus
| | | |
| --- | --- | --- |
| Front Screen Repair | Charging Port Repair | Loudspeaker Repair |
| Battery Replacement | Front Camera Repair | Back Camera Repair |
| Factory Unlock Service | WIFI Repair | Software Repair |
| Microphone Repair | Power Button Repair | |
iPhone 6 Plus Repairs Oxford
iPhone 6 Plus Repair at Fon Fix 4 U
iPhone 6 Plus was released in 2014 with some attractive features. iPhone 6 Plus has aluminium frame body with gorilla glass front, and 5.5 inches display with high resolution. It offers a long battery life than iPhone 6 and iPhone 5S with a talk time of up to 12 hours. It comes with a good processor, excellent voice quality, and better cameras than predecessors.
Mobile phone repair requires vast experience and knowledge, on the part of technicians. A skilful person can do it in minutes, however, on the contrary, a novice can ruin the project due to incompetence. Fon Fix 4 U is a team of experts striving hard, to provide the outstanding iPhone repair services in Oxford, for more than ten years. One of the reasons why people trust our repair services is; our commitment, and service quality. Whenever you need repair services for your iPhone 6 Plus, search for iPhone repair near me and avail Fon Fix 4 U repair services. We offer repair services for iPhone 6 Plus hardware and iPhone 6 Plus software. No matter what glitch your iPhone has, contact Fon Fix 4 U for a free diagnosis and repair services.
iPhone 6 Plus Screen Replacement in Oxford
Fon Fix 4 U offers cheap screen replacement in Oxford for iPhone 6 Plus. We do iPhone 6 Plus screen repair on the same day and offer a fair process for your iPhone. You can either stay at the store or collect your mobile phone within due time after repair.
You invest hundreds of pounds to buy an iPhone, this expensive device needs expert and trained technicians to fix the problem. At Fon Fix 4 U, we have a team of qualified IT professionals, technicians, and engineers. Fon Fix 4 U provides you with the quality repair services in the least price. If you own iPhone 6 Plus with a broken screen, bring it to Fon Fix 4 U for replacement. Besides the broken iPhone screen, if your mobile phone screen becomes black or white, has lines on the screen, low brightness, or any other software issue. We fix it all without any delay and extra charges.
iPhone 6 Plus Water Damage Repair in Oxford
iPhone water damage repair services at Fon Fix 4 U, Oxford are matchless. If your iPhone 6 Plus comes in contact with water, don't stress yourself. We are capable of repairing your water damaged device in no time. iPhone water damage repair services at Fon Fix 4 U are quick and reliable. We don't take much time in repairing your smartphone. Your mobile phone and data both are safe with us. If you are looking for super-fast repair services in Oxford, you stepped into the right place.
iPhone 6 Plus Battery Replacement in Oxford
If you are having issues with your iPhone 6 Plus battery, bring your device to Fon Fix 4 U. Our iPhone experts replace the battery in minutes. Mobile phone heats up, and battery drain is a common issue, that you may face one day. The reason can be battery age, mobile phone overuse, apps running in the background, software updates etc. Irrespective of the reason behind battery drain, Fon Fix 4 U certified technicians have a solution for every problem your iPhone has.
iPhone 6 Plus battery replacement cost is the most economical at Fon Fix 4 U. We offer three ways to send your device to our iPhone repair store. You can make a personal visit, courier your device, or ask for a call out to save your time. Fon Fix 4 U, the team of professionals is always ready to serve you to its best.