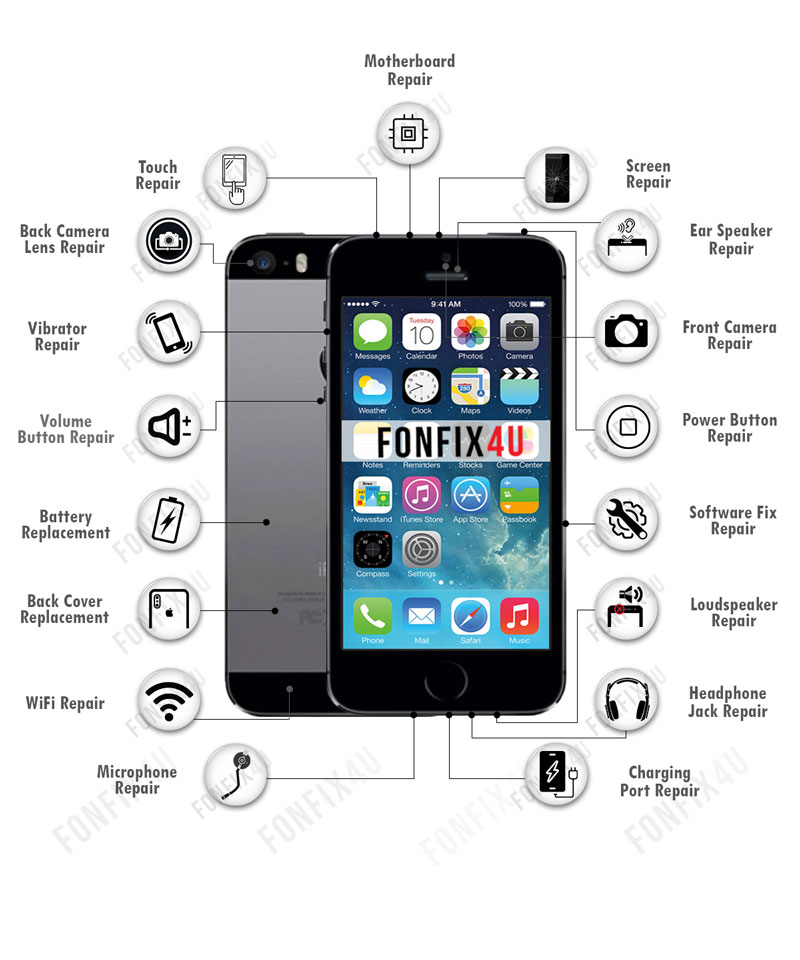 Apple iPhone 5S
| | | |
| --- | --- | --- |
| Front Screen Repair | Charging Port Repair | Loudspeaker Repair |
| Battery Replacement | Front Camera Repair | Back Camera Repair |
| Factory Unlock Service | WIFI Repair | Software Repair |
| Microphone Repair | Power Button Repair | |
iPhone 5S Repairs in Oxford
iPhone 5S Repair at Fon Fix 4 U

Looking for a reliable iPhone 5S repair service in Oxford; bring your iPhone to Fon Fix 4 U for a quick fix. iPhone repair services at Fon Fix 4 U are fast and affordable. We fix every iPhone model from iPhone 4 to iPhone SE 2020, and every glitch from iPhone screen repair, to iPhone water damage and battery replacement. Our certified technicians and engineers provide you with quality repair not less than the repair you had at Official iPhone service centre, and with minimal price rates. Mobile phone use is increasing day by day, and we are so much dependant on cell phones. We need it to attend business meetings, conference calls, listening to music, playing games, and much more. Fon Fix 4 U tech gurus offer you same-day repair services for your iPhone, to save our time. You can drop your cellphone at our iPhone repair store in Oxford, ask for a call out, or courier your device for repair.
iPhone 5S Screen Replacement in Oxford

We offer iPhone screen replacement and iPhone screen repair services at Fon Fix 4 U at the least price rates. If you need iPhone 5S screen replacement, visit our iPhone repair store for same-day repair service. Screen replacement is not a big deal for our skilled technicians.
There are several online videos for screen repair using cheap screen replacement kits. The tools are easy to buy from Amazon, eBay or any other shopping website, but iPhone repair is a bit tricky. People think they can do it with their eyes shut. But it requires experience, and skill to repair a smartphone. If you are the one looking for quality repair services, quick on the one hand and reasonable on the other. Look no further and visit our Apple iPhone repair store in Oxford.
iPhone 5S Battery Replacement in Oxford
iPhone battery drain is a general issue that most people complain about someday. In this fastest growing technology race, people are abreast with the problems they can have with their smart gadgets. One such issue is battery drain that might turn out temporary. To identify the reason behind the battery drain, you may visit our repair store in Oxford for a free iPhone diagnostic test. After the test results, you can either continue with a repair plan or get back your device without repair.
If you are facing any issue like poor battery life, battery drain, or slow phone charging with your iPhone 5S, bring your device at Fon Fix 4 U. You can have iPhone 5S battery replacement and battery repair services at our place. Our certified technicians won't take much time to replace your mobile phones battery.
iPhone 5S Water Damage Repair in Oxford
The puissance of technology is ruined by water contact or even a dab of moisture. Matter behaves differently under different circumstance. There are chances that your iPhone may go through a full recovery from water damage, but, sometimes the same device is damaged due to the least exposure to liquid. The longer the exposure to water, the more the chances of damage. To avoid a wretched situation, act fast and prudently by rushing towards a reputable repair store like Fon Fix 4 U.
Fon Fix 4 U offers water damage repair services for all iPhone models. If your iPhone 5S is water damaged, contact our iPhone doctors for the quality repair. All our repair services come under the three-months warranty. We are well known Apple iPhone repair service provider in Oxford. Visit us today for any iPhone problem and repair service.