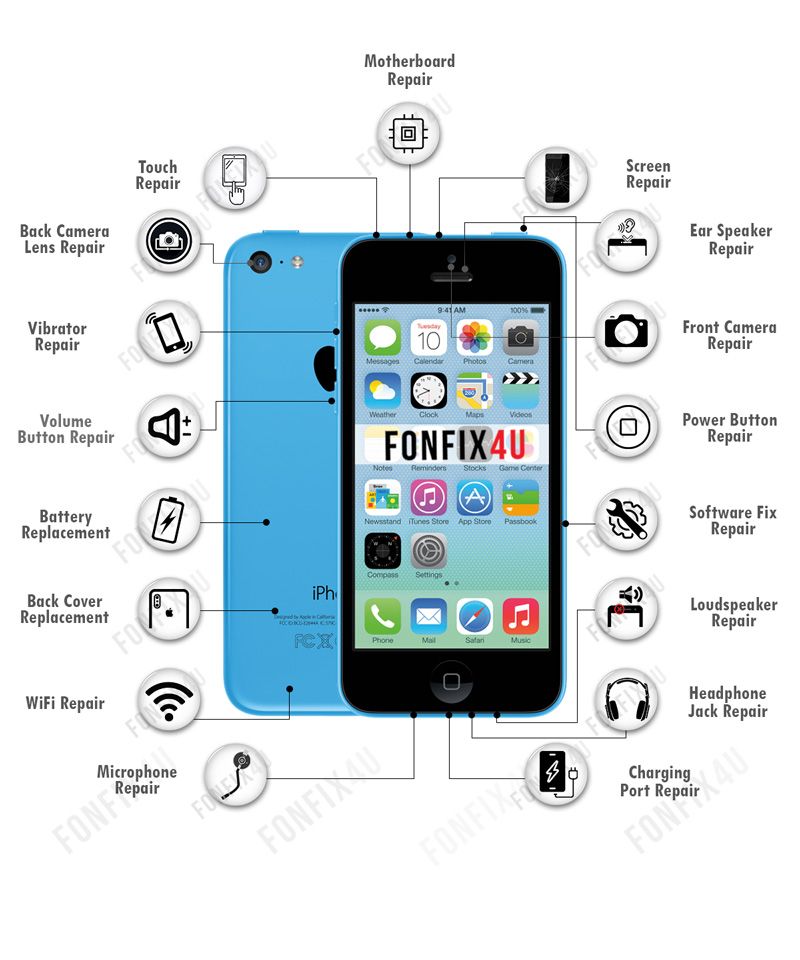 Apple iPhone 5C Repairing Oxford
| | | |
| --- | --- | --- |
| Front Screen Repair | Charging Port Repair | Loudspeaker Repair |
| Battery Replacement | Front Camera Repair | Back Camera Repair |
| Factory Unlock Service | WIFI Repair | Software Repair |
| Microphone Repair | Power Button Repair | |
iPhone 5C Repairs Oxford

iPhone 5C repair at Fon Fix 4 U
iPhone 5C is the seventh generation of iPhone, made public in September 2013. iPhone 5C is a modification of the iPhone 5 with the same hardware and similar features. It is the iPhone with the lowest price among its predecessors and successors. With the most innovative features, a good RAM and processor, iPhone 5C received positive reviews and feedback. Apple iPhone is known for its durability, trendy design, and exciting features. Irrespective of the high prices, people prefer to buy this stylish device. iPhone demands a reliable place to deal with its problems and malfunctioning. Fon Fix 4 U is a well- known place in Oxford for iPhone repair services. Our repair services are budget-friendly, and every repair comes under warranty.
iPhone 5C Screen Replacement in Oxford
Fon Fix 4 U offers iPhone 5C screen replacement and iPhone 5C screen repair in Oxford at a reasonable price. All our screen repair services come under warranty. If you are having any problem with your iPhone 5 screen display, or iPhone screen is shattered into pieces, contact Fon Fix 4 U experts for a repair. We also offer same-day iPhone screen replacement services to save your time. We use top quality and genuine screens for replacement.
iPhone 5C Battery Replacement in Oxford
Mobile phone battery fails to hold a charge over time. Battery drain is what keeps you away from enjoying the technology. If you have a problem with your iPhone 5 battery, like battery rain, battery not holding charge, unexpected shutdowns, and mobile phone heat-ups, worry not. Fon Fix 4 U iPhone doctors offer a better solution for every problem your iPhone has.

Mobile phone batteries need replacement, and repair services when it becomes old. Bring your iPhone 5C at Fon Fix 4 U for the fastest battery replacement service, and at an affordable price.
iPhone 5C Water Damage Repair in Oxford
Accidents happen every day, but the important thing is recovery from that mishap. Whenever you face a problem like water damage, with your iPhone 5C, bring it to Fon Fix 4 U without a second thought. Our skilled technicians are ready to help you out with all the glitches your cellphone has. Our iPhone water damage repair services are quick and reasonable. iPhone is a durable device, it can damage due to water exposure, or a fall. No matter what glitch your iPhone has, ask our certified technicians for a fix. We deal in iPhone hardware and iPhone software issues splendidly. You can avail our iPhone 5C camera repair service, iPhone 5C power button repair, iPhone 5C volume button repair, iPhone 5C charging port repair. Visit us today to benefit from our iPhone repair services.