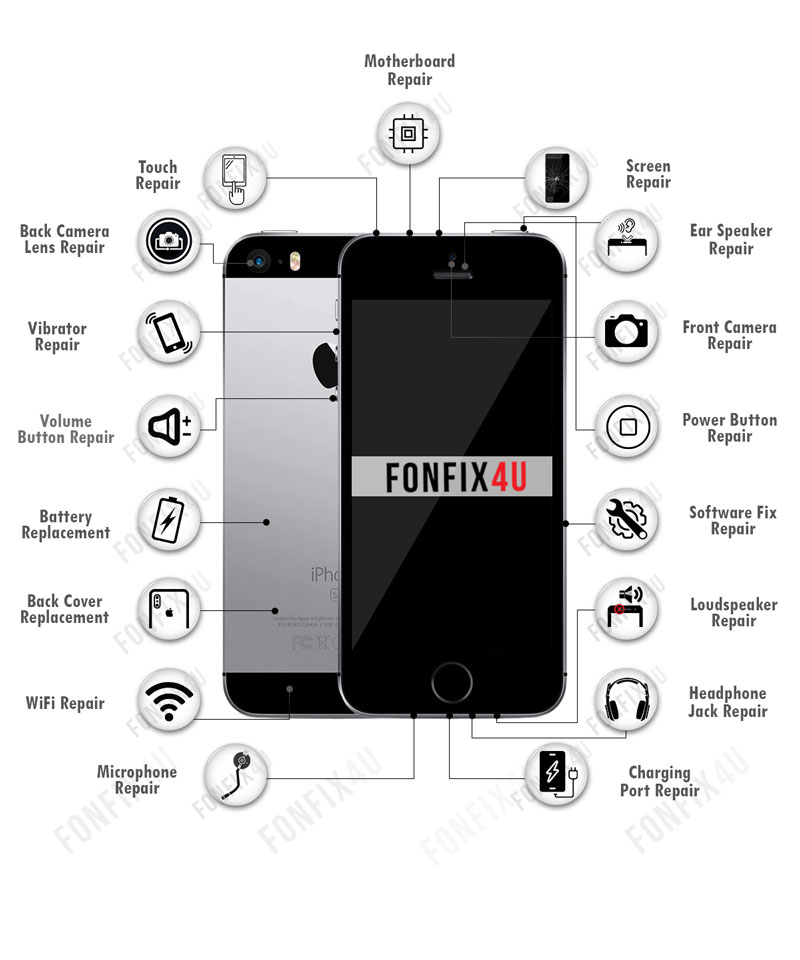 Apple iPhone 5
| | | |
| --- | --- | --- |
| Front Screen Repair | Charging Port Repair | Loudspeaker Repair |
| Battery Replacement | Front Camera Repair | Back Camera Repair |
| Factory Unlock Service | WIFI Repair | Software Repair |
| Microphone Repair | Power Button Repair | |
Get your iPhone 5 Repairs Instantly in Oxford
iPhone 5 Repair at Fon Fix 4 U
iPhone 5, the sixth-generation iPhone was launched in September 2012 under Apple flagship. iPhone 5 received some positive changes from its predecessors like light and thin aluminium body, taller screen, dock connector, LTE support, and an 8-megapixel Sony-made camera. This Apple phone has a short life span of ten months, in production from September 2012. If you own iPhone 5, you can upgrade your iPhone, sell it, and can have repair services all under one roof at Fon Fix 4 U.
Whenever you have a malfunctioned iPhone 5, search for iPhone repair near me, and contact our iPhone doctors. We offer same-day repair services for a few mobile phone problems like screen replacement, battery replacement, and minor repairs. However, water damage repair takes more time, as the problem is a bit complicated. Our iPhone repair services cover every problem your iPhone hardware and software may have. If you are looking for mobile phone deals in Oxford, you have come to the right platform. At Fon Fix 4 U, you can buy cellphones of any brand and model. If you want to upgrade your phone, we can help you with that as well. It's the right place to buy, sell and get your phone repaired. Visit us today, for more details and services we offer.
iPhone 5 Screen Replacement in Oxford
Fon Fix 4 U is known for its quality repair services in Oxford. You can have iPhone 5 screen repair and replacement at Fon Fix 4 U. If you drop your iPhone by chance, and it results in a broken or cracked screen, the shock it gives is unbearable. Fon Fix 4 U knows the trouble that you are going through, for that reason we offer quick and affordable repair service for your smartphones. Besides iPhone broken screen, if you are having trouble with your iPhone 5 display, bring it to our skilled technicians for a free diagnostic test.
iPhone 5 Water Damage Repair in Oxford
If you are looking for iPhone water damage repair services in Oxford, visit Fon Fix 4 U. We offer iPhone 5 water damage repair service at a reasonable price. All of our repair services come under a three month warranty. If you drop your iPhone 5 in a pool, toilet, sink, or any other liquid, its heartbreaking no doubt. Instead of stressing yourself or blaming your fate, bring your iPhone 5 out of the water as quickly as you can. Wipe off the device, switch it off if possible. Don't try to charge the phone, or open it at home. Inspecting your cellphone at home may result in more damage and complications. Fon Fix 4 U is here to help you out with your water damage device in minimal time.
iPhone 5 Battery Replacement
You can extend your iPhone 5 battery life by following Fon Fix 4 U experts advice. Fon Fix 4 U certified technicians not only provide you with iPhone repair services but help you with your device handling as well. You can have iPhone 5 battery replacement on the same day. If you are facing any problem with your iPhone 5 battery like battery depletion, frequent charging, mobile phone heat up, or dead battery. Bring your iPhone 5 to our Apple repair store in Oxford for a quick fix.
No matter what glitch your smartphone has, ask us for the best possible solution.