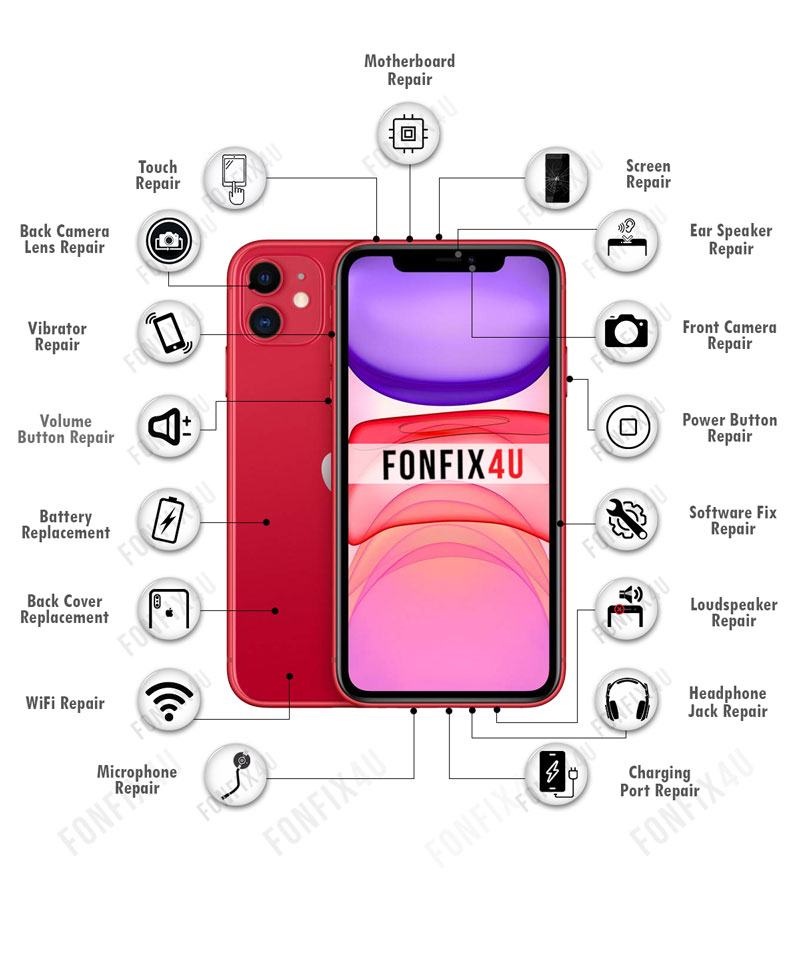 Apple iPhone 11
| | | |
| --- | --- | --- |
| Front Screen Repair | Charging Port Repair | Loudspeaker Repair |
| Battery Replacement | Front Camera Repair | Back Camera Repair |
| Factory Unlock Service | WIFI Repair | Software Repair |
| Microphone Repair | Power Button Repair | |
iPhone 11 Repairs at Fon Fix 4 U in Oxford
Call for Inquiries: 01865 236 925
iPhone 11, Generation 13
Apple Phone 11, the thirteen generation, was launched in September 2019. iOS 13 operating system with Apple A13 Bionic chip, and 5W charger. iPhone 11 comes in Purple, Yellow, Green, Black, White, and Product Red colors. The Apple iPhone 11 carries a matte glass rear camera housing and glossy glass back. iPhone 11 is available with storage options of 64 GB, 128 GB, and 256GB. It has an iP68 rating of water and dust resistance. The iPhone 11 has a 6.1 inches IPS LCD with a resolution of 1792 × 828 pixels. The iPhone 11 has a dual-lens 12MP rear camera array. iPhone 11's performance, battery life, and cameras make it admirable.
iPhone 11 Repair at Fon Fix 4 U
Owning an expensive mobile phone does not mean that it is free from problems and damages. No matter how much you invest in a smartphone, it can undergo a problem. If you own an iPhone 11 and it is not working. Stop worrying, and visit Fon Fix 4 U for the best solutions to your iPhone problems. If you are residing in Oxford, visit for detail information about the repair process. You can also send your iPhone 11 from other cities for the repair. At Fon Fix 4 U, we provide a systematic process for iPhone repair. Once we receive your mobile phone, our certified technicians and engineers carry out a diagnostic test to identify the glitch. After the problem identification, we move on to its repair. If you need the best iPhone repair services in Oxford, make Fon Fix 4 U, your preference.
iPhone 11 Screen Replacement in Oxford
Fon Fix 4 U offers you iPhone 11 screen replacement and iPhone 11 screen repair at affordable prices. We use original iPhone screens for the repair process. We do same day iPhone 11 screen replacement at Fon Fix 4 U. If you have a broken iPhone 11 screen, visit Fon Fix 4 U for a quality iPhone 11 repair. If you are experiencing any display issues or your iPhone 11 screen is not responding to touch. Bring your iPhone 11 at our Oxford store for the repair.
iPhone 11 Water Damage Repair in Oxford
iPhone 11 is water-resistant but still, there is the possibility of water damage. iPhone water damage is not an issue that has no solution. The technicians, at Fon Fix 4 U provide you quality services for iPhone 11 water damage. So your device can look as good as it was before the water damage.
iPhone 11 Battery Replacement in Oxford
We want a mobile phone that has long battery life. It is always annoying when the mobile phone battery drains fast. Even repeated charging does not help to retain the battery. The reason for the iPhone 11 battery depletion can be its overuse, age, or a new iPhone update. Whatever issue your iPhone 11 battery has, Fon Fix 4 U is there to help you out. At Fon Fix 4 U, we do iPhone 11 battery replacement on the same day.
iPhone 11 Camera Repair in Oxford
If you are unable to take selfies, record videos, or have black camera issues with iPhone 11 camera. The images you take are blur or the iPhone 11 camera glass breaks. No matter what glitch your iPhone 11 rear camera or iPhone 11 front camera has. Fon Fix 4 U offers you the best iPhone 11 camera repair services in Oxford.
We offer cheap mobile phone repair services at Fon Fix 4 U. Just name the mobile phone problem and have a quick fix. We offer iPhone 11 charging port repairs, iPhone 11 speakers repair, iPhone 11 headphone jack repair, iPhone 11 microphone repair, iPhone 11 power button repair.
Whether you are having a problem with iPhone 11 hardware or iPhone 11 software, visit Fon Fix 4 U for a quality repair service in Oxford.